Need extra Cash Flow? A Chicago ADU could be the answer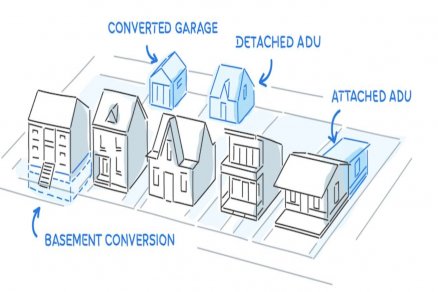 Know the Basics of Chicago ADUs Before Investing
Accessory dwelling units (ADUs) in the Chicago area are becoming more popular by the day. Once banned throughout the city in the 1950s, ADUs are now an attractive option for real estate investors who want to raise an existing property's value and/or cash flow.
The Chicago City Council approved the ADU ordinance in December 2020, and it went into effect in March 2021. So far, the benefits of allowing ADUs outweigh the downsides, and we foresee great things happening down the line for smart real estate investors who choose to gather the facts before taking advantage of the Chicago ADU ordinance.
Below is a quick guide on what exactly Chicago ADUs are and how you would go about getting approved for a new building permit. Ultimately, the choice is yours whether or not to take advantage of the ADU ordinance, but it's an opportunity you have to consider if you are a savvy Chicago real estate investor.
Why were ADUs banned in 1957?
Initially, city officials worried that overcrowding would do more harm than good, so several ordinances were enacted that banned small dwellings on an already-developed property, such as a coach house or a small backyard house. The catch is that the 1957 ordinance also prohibits ADUs in basements and attics, yet the law is different now that the city has changed its policy.
What are the main benefits of ADUs in Chicago?
From an investor's point of view, the main benefit of ADUs is that it gives you a chance to make extra income. That's usually why most investors build an additional dwelling unit, to increase cash flow and charge higher rents. But you could also construct a small unit on your property to house family members if the primary structure is too small to accommodate everyone.
From a resident's perspective, the legalization of ADUs means that there is more affordable housing throughout the city, a significant problem that demands a solution as quickly as possible. Instead of increasing other city services, the Chicago City Council voted to fix a complex issue promptly. At the time of this writing, the ADU ordinance is proceeding as planned, so the next question is: how do you determine whether or not a property is eligible?
Determining eligibility based on five pilot zones
Eligibility depends on several factors, mainly the location of the property. In total, the ADU ordinance specifies five areas where homes may be eligible:
North zone
Northwest zone
West zone
South zone
Southeast zone
Here's a map to show you which parts of the city the ordinance covers.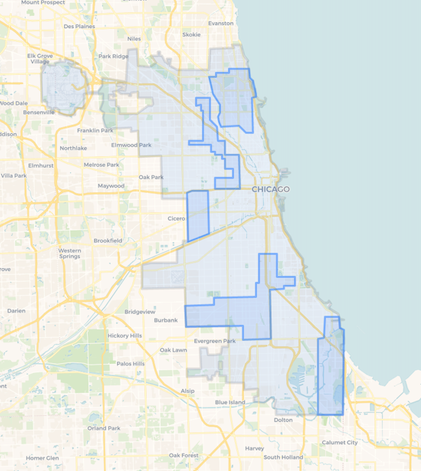 As you can see, many opportunities exist throughout the area, and as the benefits come to light, you can expect the zones to encompass more communities. To see if your properties are eligible, check your address on the City of Chicago Zoning Map.
Are there any additional zoning requirements?
In addition to the location, a property must also be at least 20 years old at the time of the application if you're trying to convert a space inside the home to an ADU. Additionally, the property needs to be in an approved residential district to qualify.
The number of units also counts towards approval or denial. If your home already has five ADUs, you can't add another, but there's an alternative to consider. The ordinance says you can create more conversion ADUs; however, the number isn't endless. You can only add 33 percent of new units as conversions.
Essentials for approval
Now, we get into the actual process of getting approved for an ADU. Here's a quick breakdown of how to do it correctly. It's a two-stage process if you're new to applying for permits.
1. Submit the Intake Form to the city
2. After an intake form is approved, send letters to the ward's alderman and notify neighbors as required by law
3. Submit the plans to the city for approval
4. Start the renovations
As you might expect, a licensed architect or structural engineer must submit construction plans to the Department of Buildings. The good news is that the city employees permit expeditors to make the approval process faster and more convenient for investors. You'll also need to follow standard guidelines and only hire licensed masons, plumbers, and electricians for essential city services.
Not only that, but you'll also have to satisfy other regulations that may or may not make the project more expensive. For instance, you can't use an ADU as an Airbnb property; that's specified in the law. But you won't have to add parking for a new ADU. No existing on-site parking can be removed to create ADUs. You'll require a separate permit for that kind of project.
Other specifications state that a coach house can't be more than 22 feet high, nor can a coach house cover more than 60 percent of a property's space. In other words, the coach house can't be larger than the primary residence, and the ADU needs to be smaller than 700 square feet.
Nevertheless, the confusing part for real estate investors is that some zones have different requirements than others. For instance, in the South, Southeast, and West zones, the owner must occupy the dwelling to add a coach house. Additionally, only two ADU permits will be issued per block per year in those zones.
Other than these restrictions, the ordinance gives investors a fair amount of leeway to build ADUs, which makes the opportunity very attractive. Once you understand the basics, it's a pretty straightforward process to obtain a permit, but you have to do it the right way from the beginning.
Contact Quality Builders for any of your ADU renovation needs
ADUs provide a significant opportunity for real estate investors, but there's a process to follow to get approved by the city. The good news is that it doesn't take too long to get everything in order. If your next step is contacting a licensed architect, we recommend reaching out to either PMPC Architects or Pavlovcik Architecture for any of your ADU architecture needs.
Although the ADU ordinance is pretty new, we already have experience with it, and we can help guide you through the process. At Quality Builders, we remain committed to bringing technology and transparency to the real estate industry.
Contact us to learn more about how we can help you invest in real estate the right way.