How to Select a Chicago Real Estate General Contractor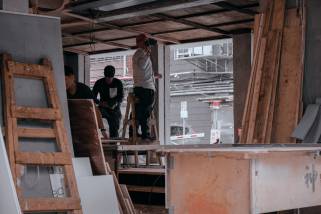 How Real Estate Investors Should Choose a Chicago General Contractor

There's at least one divorce every minute in the USA. No one ever said relationships were easy and it's not just marriages that fail. Successful professional relationships can sometimes be just as difficult to pull off. Throw in a tight budget, high expectations, some strict deadlines and cash flow issues. You'll quickly see why the relationship between a Real Estate Investor and a typical Chicago General Contractor can be a tricky one to navigate.
‍
Read on to find out how Real Estate Investors can help to keep things on an even keel.
‍
What Could Possibly Go Wrong When Selecting a Contractor?
The short answer is a lot. So, You've found the perfect piece of Chicago Real estate, secured the proper financing, and now you're ready to start renovating. The next step involves selecting the right contractor for your project from an extensive list of options with less than satisfactory or unknown qualifications. This requires a skill set that can root out the good contractor from the bad.



The common pitfalls are pervasive throughout the industry:

Roofers, plumbers, electricians, etc. not showing up to the job
Contractors asking you for a large up front payment or to pay for unfinished work
Poor time-management and "ghost-like" contractors who fail to answer their phones
Contractors who are worried about their next job before they finish yours
Clear signs that a contractor has not paid attention to detail
‍
In Chicago, as in other cities, the cheapest bid will likely not be the best option. The old adage "you get what you pay for" holds very true in residential construction.


Making the Relationship Work with a General Contractor
When you meet potential General Contractors for the first time, here are some key must-dos:

Ensure they have the correct licenses and insurance
Research them by checking their online reviews and talking to previous clients
Be crystal clear about your expectations and deadlines
Clearly define the scope of work & how any change orders will be handled
Set payment milestones and spell out the dependencies
Ask yourself if you're going to get along and if you trust them
‍
Always Pay Attention to What Your Contractor Tells You
What matters most is that you choose a contractor suitable for your expectations. Good communication includes listening to their understanding of what's possible with the budget, project schedule and materials. Is their vision for the project a good fit?
One of the biggest sources of stress occurs when a Real Estate Investor changes the agreed upon scope of work.
Some contractors will see this as an opportunity for a price hike, leaving you with a tough decision with seemingly no good options.
Say 'no' and you might not get the result you want. Say 'yes' and you might have a good reason to feel cheated. Plan ahead and set the ground rules around potential changes well in advance if possible.
‍
Getting the Relationship Right with Your General Contractor
Your choice of contractor can make or break your project. Get it right and you will have a successful, profitable project. Get it wrong and you'll cause yourself a pile of stress you could do without, and even the chance of a major financial loss.
‍
The good news is there's a solution. That's to hire Quality Builders. We're a Chicago General Contractor who is building our reputation on transparency, reliability and quality. Get in touch with us now safe in the knowledge that you'll get a job well done.