Trending Designs for Post Pandemic Flipping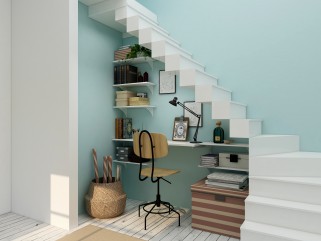 Let's cut to the chase, flipping is hard and risky! You can't just wait for the market to do the work for you, you have to put in the time, effort, and money to properly execute a successful deal. Flipping a house can be incredibly rewarding, but you need to ensure you're marketing your property well. This is where design trends and attention to detail come in.
By paying attention to design trends, you'll be better positioned to sell your next flip faster. Here are just a few trends you should pay attention to right now.
Less open floor plans, more work space
Open floor plans have had their time in the limelight but now - post pandemic - more and more buyers are looking for work space and privacy. With so many of us now working from home, people are after layouts with more privacy. Areas that facilitate jumping on a video call or taking a virtual class in peace, are now in higher demand.
Providing spaces like this can be done in a few ways. You can design dedicated home offices, carve out small nooks in open plan areas (our personal favorite), or add partitions or sliding doors to close off more open spaces.
Backyard cottages and accessory dwelling units (especially here in Chicago) are also great options for people looking for workspace outside the bustle of the main house.
‍
Lighter paints and fixtures
As we spend more time indoors, it's only natural we try to brighten up the space. This has created a trend to use lighter hues in everything from paints to countertops throughout this year.
Beige, sand, and taupe are making a major comeback while previously popular darker hues are fading out. So if you're looking to flip your house post-pandemic, look for ways to lighten up your interior – your buyers will thank you and so will your pocketbook.
‍
Emphasis on kitchen work areas
No surprise here! We don't just come home for one or two meals a day anymore, we're spending more and more time preparing food in our houses and that trend has had an impact on what buyers want from their kitchen space.
More prep space and dedicated work areas are the go to – people are no longer satisfied with just a fridge, sink, and stove. If you want to flip your house fast, look into renovating your kitchen with utility in mind.
‍
Flip with ease
Flipping a house is hard but rewarding work. With an eye on the right trends, you'll be in a great position to flip your house in today's market.
Want to see a couple that makes house flipping look easy? Follow our friends Property People on Instagram!
Thinking about adding a Chicago ADU? Please visit our website Quality Builders and set up your free consultation. We are in the ADU approval process ourselves and happy to guide you through each step to get your ADU approval as well.
We have a mission to bring technology and transparency to the real estate construction industry.
Feel free to contact us for more information.
‍
‍